Wine Enthusiast note la cuvée Ikon du Château Hermitage Saint Martin
Ikon rouge 2012 : 93/100
ikon rosé 2015 : 89/100
Ikon blanc 2014 : 86/190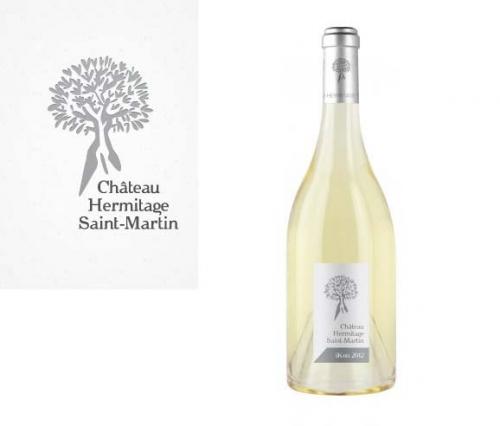 EXTRAIT ROSE IKON
Château Hermitage Saint-Martin 2015 Ikon Rosé (Côtes de Provence). Certified via Ecocert and the Vegan Society, this is a super pale, baby aspirin-pink rosé, with a fairly large, water white rim. The palate is savory, supple and silky, with predominating mineral notes. It is juicy, round and medium bodied, with solid depth of cherry and watermelon flavors as well as strawberry nuance. Attractively colored and easy drinking, this should sell like hot cakes in clubs and chic urban wine stores. Enjoy through 2016.

EXTRAIT ROUGE IKON
Château Hermitage Saint-Martin 2012 Ikon Rouge (Côtes de Provence). This wine's deep, dark color shows black streaking throughout. The rim has a bright magenta color. Its nose is dynamic, with cola, licorice and cassis aromas. The palate is bold, full bodied and generous in alcohol, but it is finely balanced by pleasantly grainy tannins and integrated, medium acidity. There are notes of dark chocolate and spent coffee grinds that suggest some use of new oak, but it is unobtrusive and masterfully integrated. This tasty, sultry bottling has the structure and whirlwind of flavors to give it the stamina to continue for a long while drink now–2019.

EXTRAIT BLANC IKON
Château Hermitage Saint-Martin 2014 Ikon Blanc (Côtes de Provence). Juicy, round and apple-like, this wine is doused with applesauce spice. It has a generous roundness upfront, but modest alcoholic weight. Good for a wine served by the glass in a casual setting, given its modest flavor dimensions and rather quick finish. It could be a good Chardonnay substitute given its buttery, smoky notes that dominate the Rolle's inherent floral character. Drink now through 2016.
---
Page prédédente
---